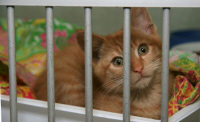 So you and your cat are scheduled to take an airplane ride for business or pleasure and you are wondering what you will need for cat air travel safety before you leave. A little knowledge and careful planning can make this trip uneventful. Planning on your part will involve making sure that you are aware of the regulations of the airlines and that you have all of the supplies close at hand during the trip.
Flying with a cat in the continental United States, should be fairly easy and your cat should be allowed to fly with you in the cabin. Flying in the cabin with you offers the best cat air travel safety. Prior to traveling by air with your cat, make sure that when placing your ticket reservation that you ask exactly which carriers are accepted by the airline you are using. It will be most likely that you will need to pay for the cat to travel on the airplane. Airlines do have regulations about how many pets can fly in the cabin so plan well in advance. It's important to ask your airlines for the documents the airline requires such as vaccination records or a health certificate so you have these on hand at the airport.
Today, there are both soft-sided and hard-sided airline approved cat carriers that can fit under the airplane seat and insure cat air travel safety. Soft-sided and hard-sided carriers are both made of waterproof materials and are easy to clean if an accident does occur during traveling. Either type should offer secure closure mechanisms to prevent an unwanted escape. The following identification should be prominent on the carriers – your name, phone number, flight number, destination and phone number when traveling and your cat should be wearing a collar and an identification tag or micro-chipped. The airline approved carriers vary by the airlines so investigate the size and weight of the carriers the airline you are using is acceptable.
Flying with your cat outside of the continental United States can involve additional cat air travel safety practices. You must be aware of the import regulations of the country or countries you will be entering. Some countries require a specified quarantine period in addition to the health certificate from your veterinarian. Flights over six hours in duration may mean that your cat might be checked as cargo and ride in the hold of the airplane. It will be necessary to utilize a hard-sided cat carrier (generally plastic rather than wire mesh) when international travel with your cat in the hold of the airplane. You will need to provide your cat with food, water and a place to eliminate waste while in flight. A small litter box should be secured in the corner of the carrier with food and water bowls attached to the door of the carrier. Additional food and water should be secured to the outside of the carrier so that if a flight is delayed or a connection missed, the airline staff can feed and water your cat while it is waiting.
Sedation of your pet is NOT generally recommended for air travel with your cat. High altitudes and sedatives are a dangerous combination and should never be mixed. Other supplies you should bring include food or at least enough food and water to acclimate your cat to new food and local water; harnesses and leashes if used, an extra collar with identification; grooming supplies; toys; cat litter; cleanup supplies; and first aid kit. These supplies can seem unnecessary but can offer you security knowing that you have covered the usual cat air travel safety needs for a variety of potential problems you might encounter during airline travel.